Michelle Messina Speaker and Educator

Re-visting sex talk in the 21st Century, Michelle Messina says,
"Clothes are to die for, sex isn't" 2010
Director Michelle Messina has travelled North America with her short film Fruitful Sex reminding girls and women that it is alright to wait! She was a speaker at the University of Central Florida, Toronto Worldwide Short Film Festival and many youth retreats. Book Michelle to visit your school to display her movie and discuss merits of waiting. This is a great sex education which goes beyond telling girls to protect themself.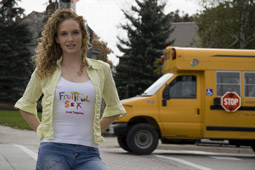 Contact Michelle Messina: e-mail
Full presentation, movie, pamphlets and open discussion
Presentations can be tailored to age and gender
contact Michelle to discuss Fruitful options.